---
London Evening Standard (West End Final A)
09 May 2012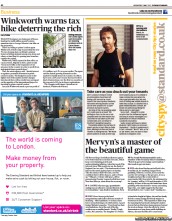 We don't often feel the need to share media coverage on this blog, but this article in the Evening Standard business section was simply too good not to flag.
Commenting on allegations that unscrupulous landlords in London have been illegally evicting tenants to make way for the high rents possible during the Olympics, the NLA was only too happy to bring out the big-guns to defend responsible, law abiding landlords.
Enter – Chuck Norris.
We're often asked for advice on how to rid the sector of rogue landlords, with the support  of our new spokesman, I think we may have found a new and unexpected solution.
(For those unable to access the e-edition above, the story also features on the Standard's website here: http://www.thisislondon.co.uk/business/cityspy/city-spy-take-care-as-you-chuck-out-your-tenants-7728404.html)